"I would not be exaggerating in saying that last night was the most well received and successful event YEN London has had in over two years. "
Jairo Jaramillo - Chairman, London Young Engineers Network
"It was the best talk I've ever been to. Loved the content, pacing, delivery, structure. Your message was very memorable (imparting that much information can leave listeners forgetting what was said) and you managed the balance between substance, detail and memorability well. "
Rebecca Aguilar, BBC Worldwide
"The feedback from attendees was overwhelmingly positive and we will continue to run the training in other offices in EMEA. "
Astrid Huijssoon, Senior Marketing Manager Cross Border Trade - PayPal CEMEA
"Andy is an energetic presenter who quickly captured our audience's attention. The content of his presentation was excellent and fostered lively commentary and questions. We will definitely have Andy back for another session and are looking for other ways to partner with him. "
Jennifer Rademaker, Head of Strategy Development Europe, MasterCard
"Andy is really engaging and left the audience wanting more which is a rarity when you work in Finance! He is extremely professional and personable and it felt like Andy really knew the topics and had researched the audience. "
Nicola Hradek, Co-Chair HSBC Balance Employee Network
"In the three months since Andy delivered his sessions, I've noticed a clear change in the approach taken by everyone who participated. We have already received a number of referrals as a result. "
Andy O'Sullivan, Head of Sales - Hospitality, Wembley Stadium
"Andy worked with my business partner and me for a number of months as a referral and networking coach. Our business has demonstrably grown due to the new techniques and skills learned through working with Andy. "
Dan Hall, Financial Advisor, Merrill Lynch
"Not only my individual life has had a total makeover after I met Andy, as a result of my personal improvement, the networks that I lead are now making a much bigger impact in the society. I can never thank Andy enough and would highly recommend him any time without hesitation. "
Ruth Lau, Central Marketing, HSBC Private Bank
"It is great to work with a speaker like Andy who really wants to understand the audience he speaks to and tailors his content to them. "
Galina Lebedeva, Education & Events Senior Co-ordinator, Wella UK & Ireland
"'Networking' as a topic can often seem forced... about tools and techniques to 'work a room' or 'get noticed' - Andy's take on it in this talk was so far removed from the glib truisms we've all heard before. "
Bryony Thomas, Watertight Marketing
"Andy certainly made a difference on how I normally approach / perceive events such as this. "
Ann Azzopardi, Category Buying Manager, Pret a Manger
"Wherever I go, Andy is held in very high regard and I can personally endorse him as someone who is easy to do business with, professional and also great to work with. "
Phil Jones MBE, Managing Director, Brother UK
"Andy has a can do and flexible attitude and is happy to develop and shape the content in line with the clients changing needs. Feedback from participants on Andy's workshops has been consistently very positive. "
Una Murphy, Manager BBC Careerlink
"The process to gaining the right referrals does not happen overnight, but executing Andy's strategy into your daily business routine will lead to referral success. "
Tom Price LLB DipPFS Hodgson Wealth Management
"Andy, thanks again for making our Balance HK event a huge success. The audience gave you their undivided attention and you could hear a pin drop when you were speaking. I have never witnessed that before, with a room of 170+ people! "
Maggie Suttie, Chair Balance Network, HSBC Hong Kong
"I found the session with Andy really interesting and helpful. It offered a different perspective to development sessions I have been to before and it made me really think about how I was positioning myself at work and what I needed to be doing differently. "
Tori Henderson, Senior Public Policy Manager HSBC
"As a direct result of Andy's workshop, we are now implementing a "networking strategy" that is aligned to supporting our key business goal. Andy's advice/insights have made me re-think all my customer interactions and even in the short term I am getting results. "
Adam Newman, Health Outcomes Consultant, GSK
"There are many motivational speakers on the circuit who leave behind them just a short lived glow and then there are the subject matter pragmatic, passionate presenters who can potentially change the long term way their audience thinks or operates. I'd put Andy Lopata in the latter category. "
Trevor Salomon – Director, Corporate Marketing, IFS
"In the pre-event correspondence, you were the most professional speaker we've ever had. By asking great questions as you did, it helped to make us more professional event organisers. "
Jackie Barrie, Co-President, Professional Speaking Association South East England
"Andy has successfully elevated networking into more of a strategic arena ...................rather than it just being a "skills" thing. "
Phil Jesson, Director of Speaker Development Academy for Chief Executives
"I would recommend Andy to come and spend time with any team that wants to maximize the time of its busy people out in the market "
Tomas Freyman, Partner, Valuations. BDO llp
""I was captivated by Andy's insightful and thought-provoking workshop. You could feel the energy in the room at the end. Several people commented that the event had changed their lives!" "
Miranda Abraham, Chair, Women in Banking and Finance
"There is a handful of people who I would consider really an expert in networking, and Andy is one of the few people on that list. "
Dr. Ivan Misner, Founder and CEO, BNI
"At each stage of the event from planning to delivery to follow up, Andy's approach was extremely impressive. He spent time at the outset understanding us, the way we work and our key objectives and this continued with discussions with us in the run up to the event to shape the session to our needs. "
Andrew Kelly, Director Human Capital Services, BDO llp
"I have already received three emails and two telephone calls from attendees who have expressly advised that as a direct result of the presentation they will without doubt be changing the way in which they network. A huge success. "
Michael Strawbridge, Head of Member Services, Learning and Performance Institute
"Andy's enthusiastic and interactive presentation at our National conference was very much appreciated by all and his series of workshops for my leadership team has been put to significant positive use. "
Shona MacDonald, Business Director UK & Ireland, Wound Care. Molnlycke Health Care
"Andy's 'The Networking Mindset' networking event was fascinating. I've been to loads of networking events over the years which are always full of people who don't quite know why they're there.... myself included. "
Nicholas Harkin, Head of Risk & Governance at Close Brothers Retail Finance
"The feedback we received from members was overwhelmingly positive, making it one of the best sessions we had all year. "
Aileen Parsons, Relationship Manager - Strategic Client Services, Paypal
"Andy's style suited our company values perfectly as it is very much based around letting people learn at their own pace and be part of the sessions instead of just being presented to. There was a mixture of experience, job roles, nationalities and seniority in the room and Andy ensured that everyone felt this training was directed at them, such is his way with words. "
Robert Kenward, Global Development Director, Banks Sadler
"Several people were surprised to find out that Andy didn't work in our sector as he related his knowledge so well and confidently, which was key to getting the audience to buy into his advice. "
Suzanne Rowse, Director, British Boarding Schools Workshop
"Andy Lopata is a true role model for any aspiring professional speaker in my view "
Heather Townsend, author of The Financial Times Guide to Business Networking
The Impact of Individual Growth on the Business Community
10th February 12 — andylopata
It's easy to lose sight of the impact that personal development can have beyond the individual concerned.
On Tuesday I delivered a talk to the staff of the West of Sweden Chamber of Commerce in Gothenburg. After the talk I spoke at length with Per Jernow. For the last 10 years Per has been working with the Chamber to bring together senior directors of regional businesses to learn from and support each other.
The West of Sweden Chamber is an impressive organisation. They run a wider range of networking events than most Chambers of Commerce I have come across and, in particular, value highly the power of peer group support. They offer a range of 'Mastermind', or peer learning groups for their members, as well as sessions to bring together young directors with experienced mentors in the area.
Per was described to me as the driving force behind many of these programmes and he demonstrated a passion and a zeal during our conversation that would be hard to match elsewhere. Rather than sit down and chat, he stood in front of a whiteboard and continually turned to it to draw images that supported his point, before turning back and looking to me for signs of agreement and understanding.
Per is clearly passionate about the value the Chamber can bring through these groups, and not just to their participants. He told me that his aim was to work with individual people and turned around to the whiteboard to draw a stickman. I was confused by this, I knew what he meant by people, but I soon found out where he was going.
"We help individual members grow", said Per as he drew a larger stickman to represent the development of his members. "That growth then helps their business grow as well." At this point, Per drew an image of a factory stemming from the successful individual.
This was an important point. During our conversation Per and I had discussed the challenges facing similar groups supporting CEOs and other senior management figures in the current environment. When jobs are being cut, pay is being frozen and pensions are under threat it can be very difficult for a CEO to justify a substantial investment into their own personal self-development. They are concerned that it could be seen as insensitive and a poor use of resources.
However, the ability of the senior management team has a major impact on the success of the companies they lead. When they face new challenges it is better that they have expertise and experience to turn to outside the business than try to find new solutions on their own. And sometimes they need a safe environment in which to share their worries and doubts without affecting the morale of those who work closely with them.
Mastermind groups provide that support and, as a result, can have a significant impact on the success of a business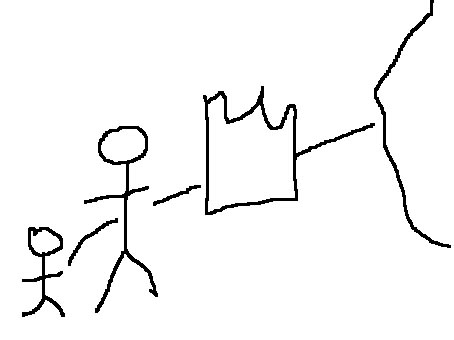 Given his role at the Chamber of Commerce, Per's sight naturally extends beyond the success of individual companies. He then drew a further image, branching out of the successful business, to demonstrate the success of the region his organisation represents. For Per, successful businesses lead to a successful region. The Swedish economy is very healthy at the moment, particularly compared to the rest of Europe, and the West of Sweden Chamber want to see the area around Gothenburg benefit from that success. Having successful businesses led by confident, well supported executives will help ensure that happens.
Looking after those executives and ensuring they have the support, advice and mentoring they need is a key part of that success.