"Andy is an energetic presenter who quickly captured our audience's attention. The content of his presentation was excellent and fostered lively commentary and questions. We will definitely have Andy back for another session and are looking for other ways to partner with him. "
Jennifer Rademaker, Head of Strategy Development Europe, MasterCard
"Andy has a can do and flexible attitude and is happy to develop and shape the content in line with the clients changing needs. Feedback from participants on Andy's workshops has been consistently very positive. "
Una Murphy, Manager BBC Careerlink
"Several people were surprised to find out that Andy didn't work in our sector as he related his knowledge so well and confidently, which was key to getting the audience to buy into his advice. "
Suzanne Rowse, Director, British Boarding Schools Workshop
"Of all the events I've organised, I have never received so much unsolicited thanks and positive feedback as I did following this. "
Emma Mortimore Membership Secretary, One Alfred Place
"It was the best talk I've ever been to. Loved the content, pacing, delivery, structure. Your message was very memorable (imparting that much information can leave listeners forgetting what was said) and you managed the balance between substance, detail and memorability well. "
Rebecca Aguilar, BBC Worldwide
"Andy worked with my business partner and me for a number of months as a referral and networking coach. Our business has demonstrably grown due to the new techniques and skills learned through working with Andy. "
Dan Hall, Financial Advisor, Merrill Lynch
"There are many motivational speakers on the circuit who leave behind them just a short lived glow and then there are the subject matter pragmatic, passionate presenters who can potentially change the long term way their audience thinks or operates. I'd put Andy Lopata in the latter category. "
Trevor Salomon – Director, Corporate Marketing, IFS
"The striking thing about Andy is that he writes a book on networking that demystifies the process and shows you all the things you know you should be doing - but never really get round to. Then he surprises you by practising what he preaches! "
Russ King, Product Manager, Monster.com
"Andy has successfully elevated networking into more of a strategic arena ...................rather than it just being a "skills" thing. "
Phil Jesson, Director of Speaker Development Academy for Chief Executives
"It was an absolute pleasure to work with you! Your balance of information, practical interaction and anecdotal evidence was perfect for the delegates – they seemed enthralled! "
Tracy Johnson, Marketing Services Director, Eventia
""In the three months since Andy delivered his sessions, I've noticed a clear change in the approach taken by everyone who participated. We have already received a number of referrals as a result." "
Andy O'Sullivan, Head of Sales - Hospitality, Wembley Stadium
"Andy certainly made a difference on how I normally approach / perceive events such as this. "
Ann Azzopardi, Category Buying Manager, Pret a Manger
"Andy was a guest speaker at one of European Young Professionals networking events in London in 2007. The 400 people who showed up were blown away by Andy's presentation and it was in fact one of the key reasons behind EYP London's early success. "
Nick Jonsson, Founder, European Young Professionals
Now That's What I Call a Great Relationship
10th April 12 — andylopata
It's easy to underestimate the importance of relationships in business. If we get things right the potential is there to be pleasantly surprised by what people will do for us. However, by the time we realise we've got things wrong, it can be too late and opportunities may have already been squandered.
Many of us can painfully recall instances where we've let relationships slip and seen clients move onto our competitors or potential business pass us by. And we can probably also think of times when we've not given someone else an opportunity because they hadn't invested in the relationship. But when we get it right, the results can sometimes be spectacular.
Last week I travelled some 300 miles to support a good friend who was celebrating ten years in business. To mark this milestone, observational marketing expert Geoff Ramm put on 'Now That's What I Call a Great Event' in his hometown of South Shields, which lies between Newcastle and Sunderland on England's northeast coast.
Geoff told me on several occasions over the two days of my stay how much it meant to him that I had travelled to support his event. But my journey was neither unique, nor was it the longest. Two colleagues of mine from the Professional Speaking Association had also travelled a similar distance from the southeast, while I met others who had travelled from across the length and breadth of the UK to be there.
Two people I caught up with had attended an event in October of last year at which both Geoff and I had spoken. They had taken Geoff up on his offer during his talks to get in touch with them and he had stayed in contact, keeping them close and making them feel special.
Geoff is good at that and that's why he had 350 people at his celebration event.
The speakers at the event also reflect the strength of the relationships that Geoff has developed. Kevin Gaskell, a former MD of both Porsche and BMW put back a family holiday to appear. He was joined by Kevin Morley, former MD of Rover Group and star of Channel 4's Secret Millionaire, global best-selling author Richard McCann and Michael Jackson, one of the busiest and most successful speakers in the World.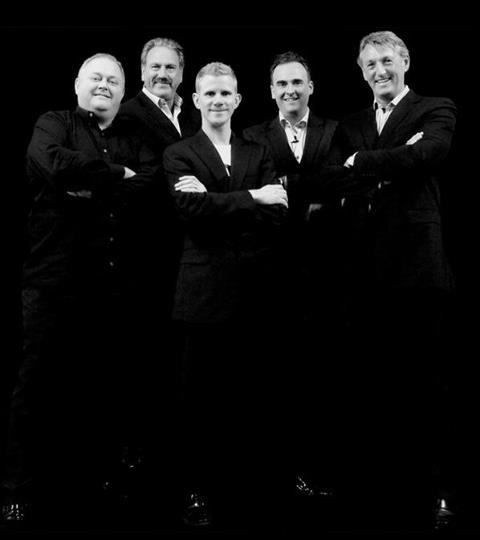 Not only did each of these speakers give up their time to travel and speak at Geoff's event at their own cost, Michael Jackson flew in from South Africa to do so. The event was supported by a large number of local businesses who sponsored everything from raffle tickets (chocolate raffle tickets!!) to the venue and marketing. The AV company provided their services for free and Sage, a client that both Geoff and I have worked with a lot over the last two years, were very generous in their support.
Why do I share this with you? It's quite simple. What Geoff achieved really was quite remarkable. From speakers to sponsors, to suppliers, to audience; Geoff persuaded people to give up their time, their services and their money to celebrate his achievement in business. He also managed to raise a substantial sum of money for a very worthy cause, but that's not what motivated people to get involved.
Geoff originally met three of his fellow speakers when speaking at The World Advertising Forum in Iran. I met the dynamic organiser of the events, Sepehr Tarverdian, when he was in London in December. During the meeting we both attended, Sepehr mentioned how relationships were far more important than almost anything else he takes into account when selecting speakers for his events.
Sepehr told me, "To be a fantastic Speaker you don't just need to have great content or to improve your showmanship level. I do believe, as an organiser who has run more than 30 top international events and worked with more than 120 speakers in eight years, that the Speaker's behaviour off the pitch, the social intelligence he proves to have in response to the cultural changes he has come across, his level of understanding of local behaviour and how easily he gets on with clients, are the foremost elements of any speaker's branding.
"These all are far more important than what content you have, or how many books you have written."
The relationships we build in business can be incredibly powerful. In my talks and workshops, I often quote Elizabeth Asquith Bibesco, "Blessed are those who give without remembering and take without forgetting."
When Geoff originally met and interacted with everyone involved in his event he wasn't planning it. He didn't build a relationship with them because he wanted them to sponsor, speak at or attend an event. He simply did so because it's his nature to do so. When he needed their support, it was there and he was humbled by it.